Accessories at E S Hartley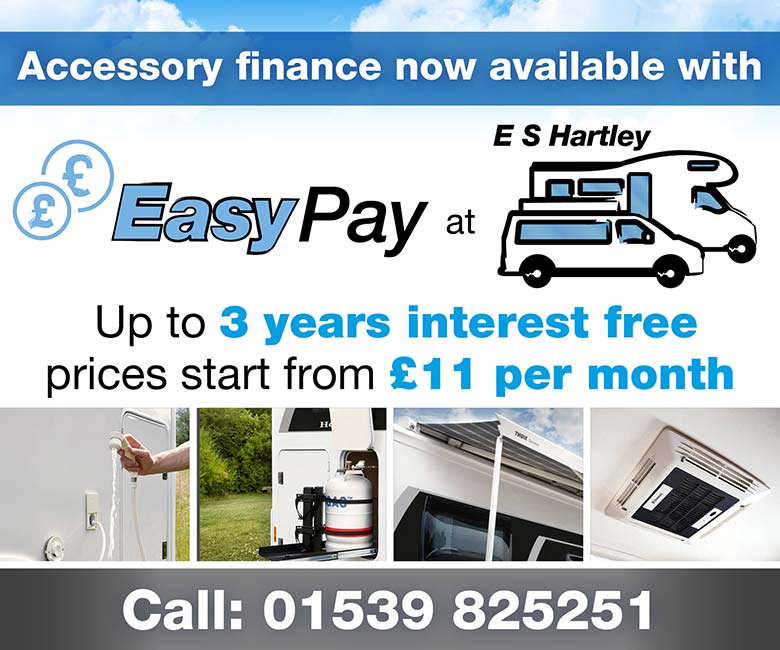 E S Hartley have a wide range of accessories available to purchase with a variety of ways to pay.
Our service centres boast a wide degree of expertise and experience in accessory fitting and our fully qualified technicians ensure your motorhome, campervan or caravan is ready to hit the road.
Easy Pay at E S Hartley offers up to 3 years interest free finance with payments starting from as little as £6 per month.
Your dream accessory may be more affordable than you think.
All accessory prices shown include fitting, if you wish to purchase the part only please call for price.
Ways To Pay
Outright Payment - Simply order the accessory from our service department and pay in full.
Interest Free Finance - Easy Pay at E S Hartley allows you to have flexible payment terms to suit you. No set up fees, and repayments are interest free for the full duration. Up to 3 years finance on accessories over £250 0% APR. A small deposit is required please see terms below:
10% deposit required for 12 months interest free
10% deposit required for 24 months interest free
10% deposit required for 36 months interest free
Quick and easy to apply, all costs shown below include fitting and labour at one of our service centres.
Please call 01539 825251 for more information or to apply today.