RIMOR MOTORHOMES AT E S HARTLEY

WORLD SWEET HOME · At home, wherever you are
Every departure is an adventure, every journey, one of discovery. Make the world your new home with Rimor. For over 40 years we have been building motorhomes and vans, taking inspiration from places that mean the most to us, that make us feel safe. Functional and welcoming, comfortable and spacious – all Rimor vehicles reflect the sleek design notes and high craftsmanship synonymous with 'Made in Italy'.
Every model guarantees you total freedom to get where you want to be – from seaside to mountainside, from busy city streets to quiet country lanes. With Rimor motorhomes and vans, you will feel at home. Wherever you are.
A WORLD OF MODELS AND NEWS · Because the journey starts before you leave
Vans and motorhomes, low-profile models and overcabs, with an elegant spirit or sporty soul, essential or full option. Rimor gives you a world of models and of news. We focused on a complete restyling for Seal and the introduction of new models with face-to-face dinette. The Horus range is being expanded to include a model with twin beds. To say nothing of the Evo – the evolution of the Rimor tradition based on Ford mechanics, and the timeless Super Brig, our flagship range, which continues to bring the ultimate expression of luxury on the road.
The Rimor fleet: lots of options, numerous solutions and configurations. Spoil yourself for choice.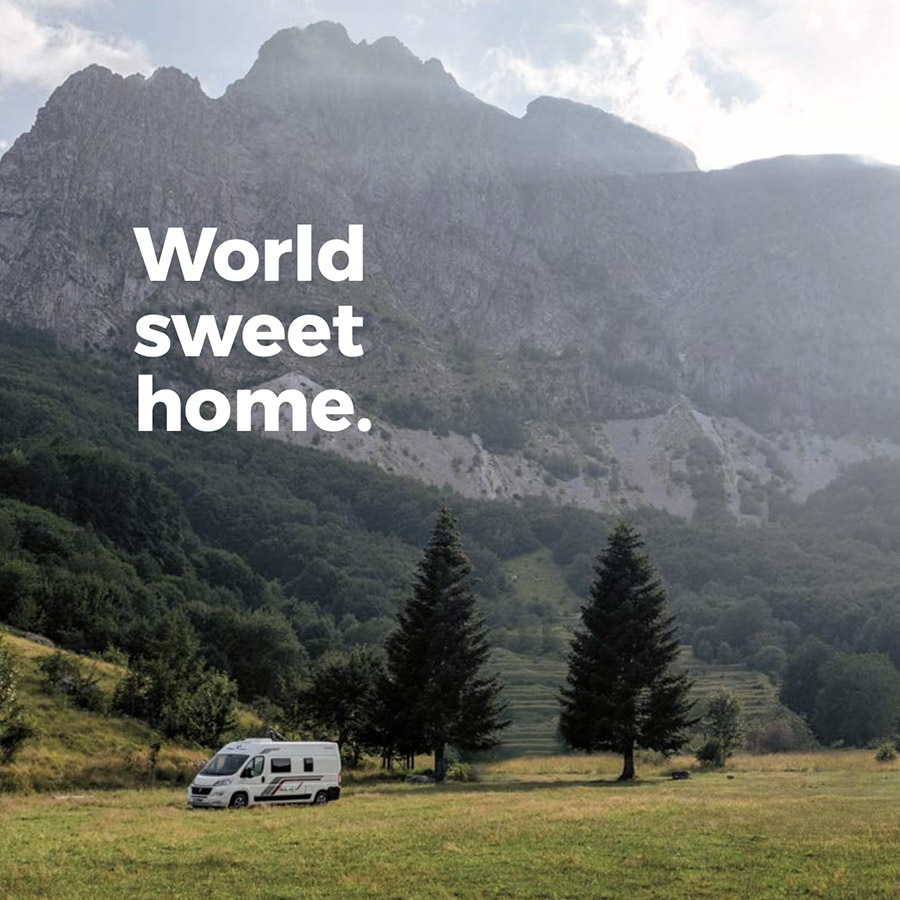 HORUS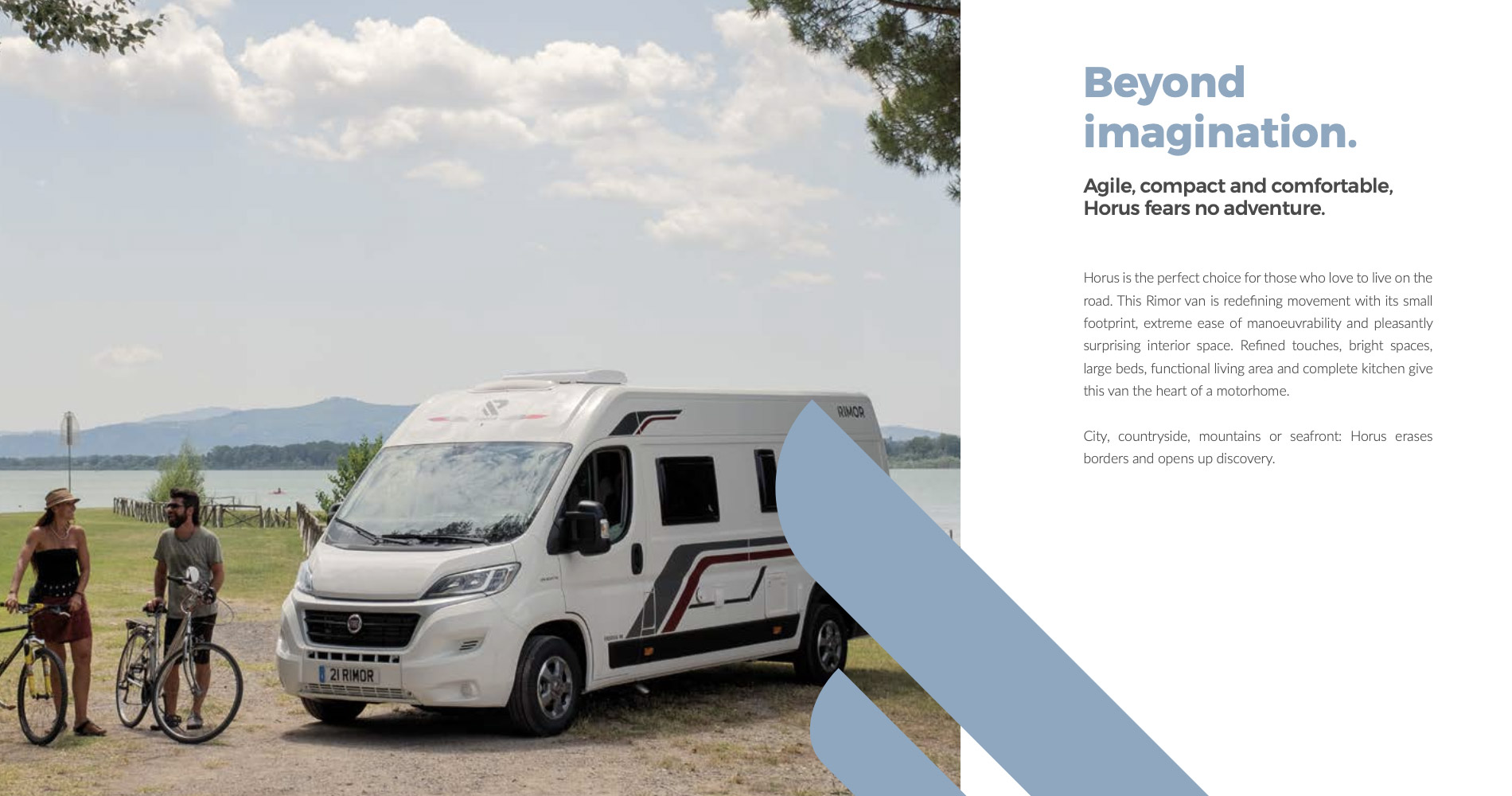 Discovery at the turn of a key.
Let your passions be your guide and set off with the van that gets you wherever you want to go. Horus is available in three configurations: Horus 38, with a transverse double bed and foldable base, Horus 45 with two stackable and completely modular double beds, and the latest model: Horus 95, with twin beds on a pneumatic slatted base.
Lots of configurations, one single goal: to give you practicality, comfort and safety, so you are free to just turn the key and go.
Overview
| | |
| --- | --- |
| Layouts | 3 |
| Berths | up to 4 |
| Fabrics | Ride |
| Models | 38 / 45 / 95 |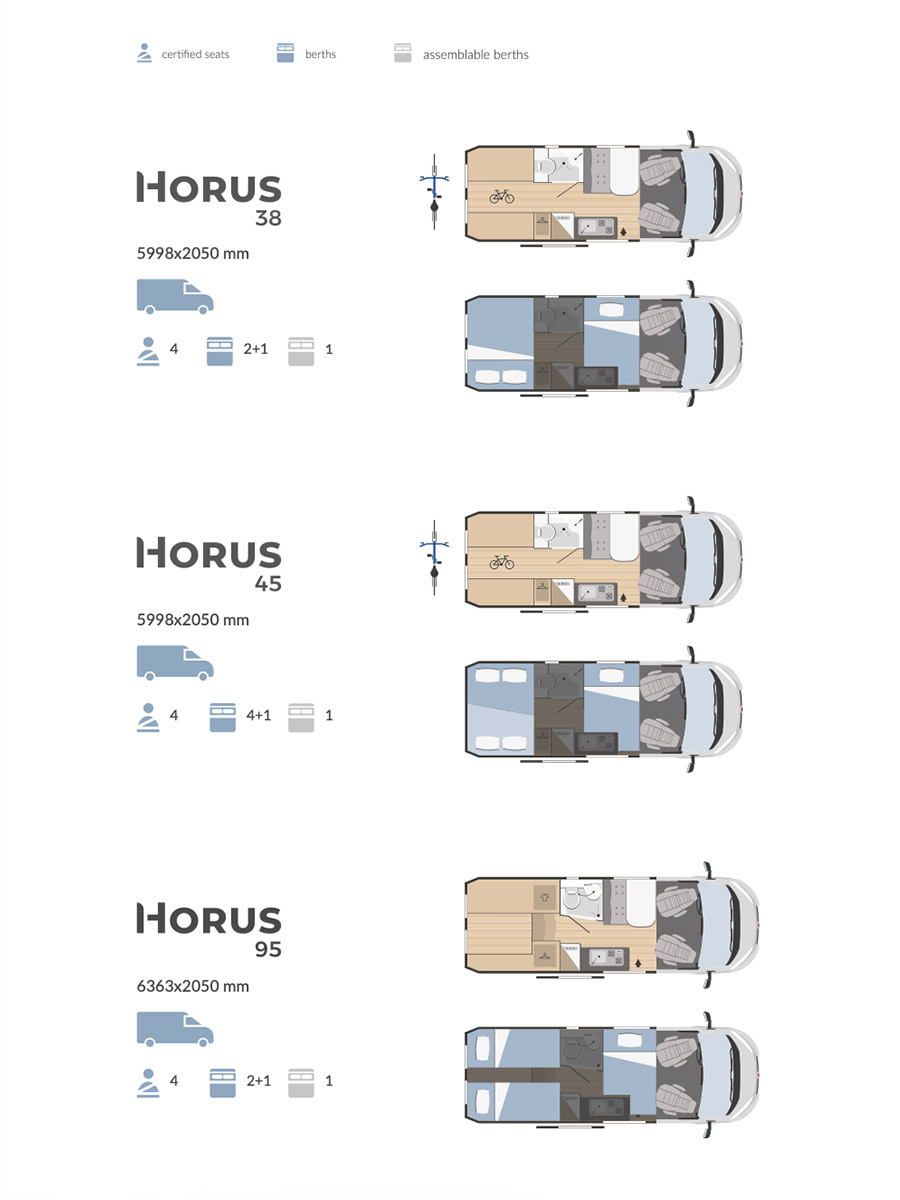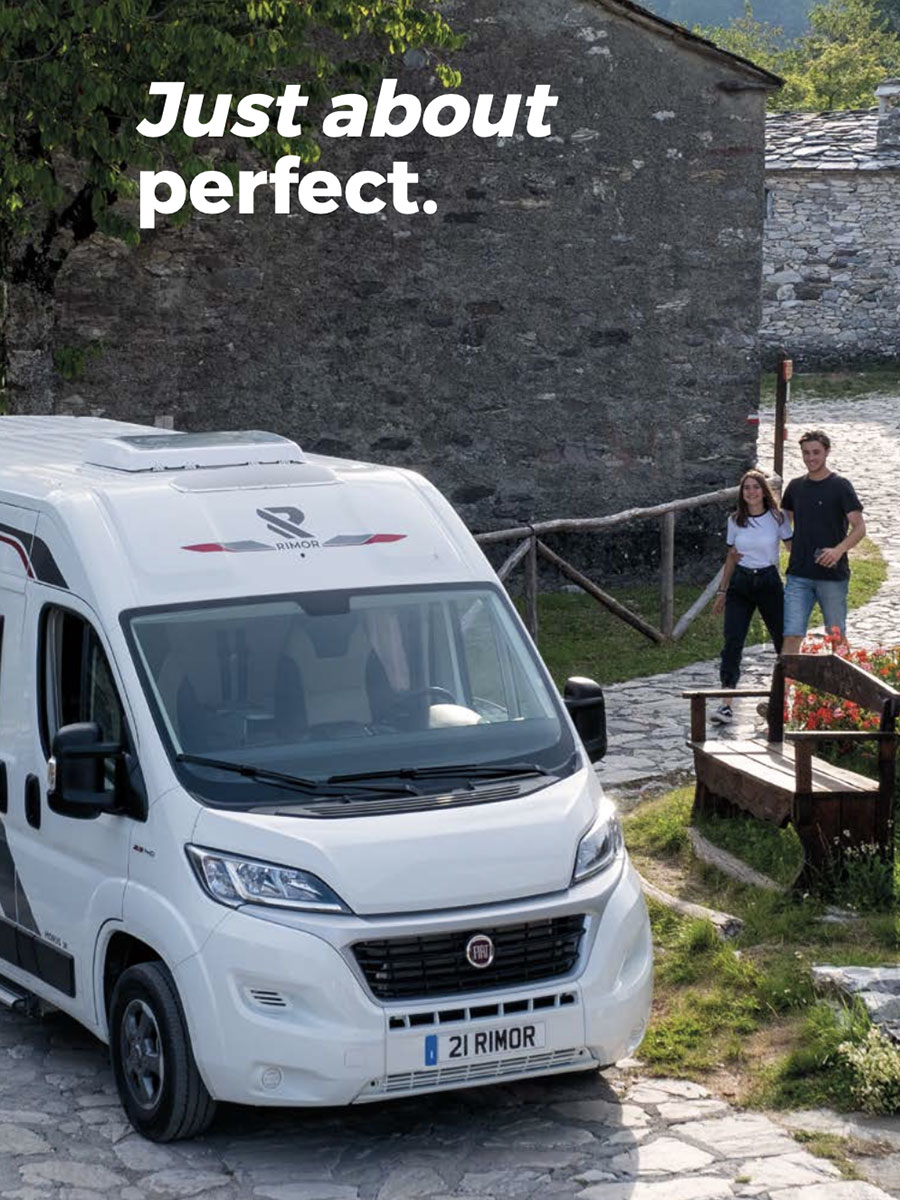 SEAL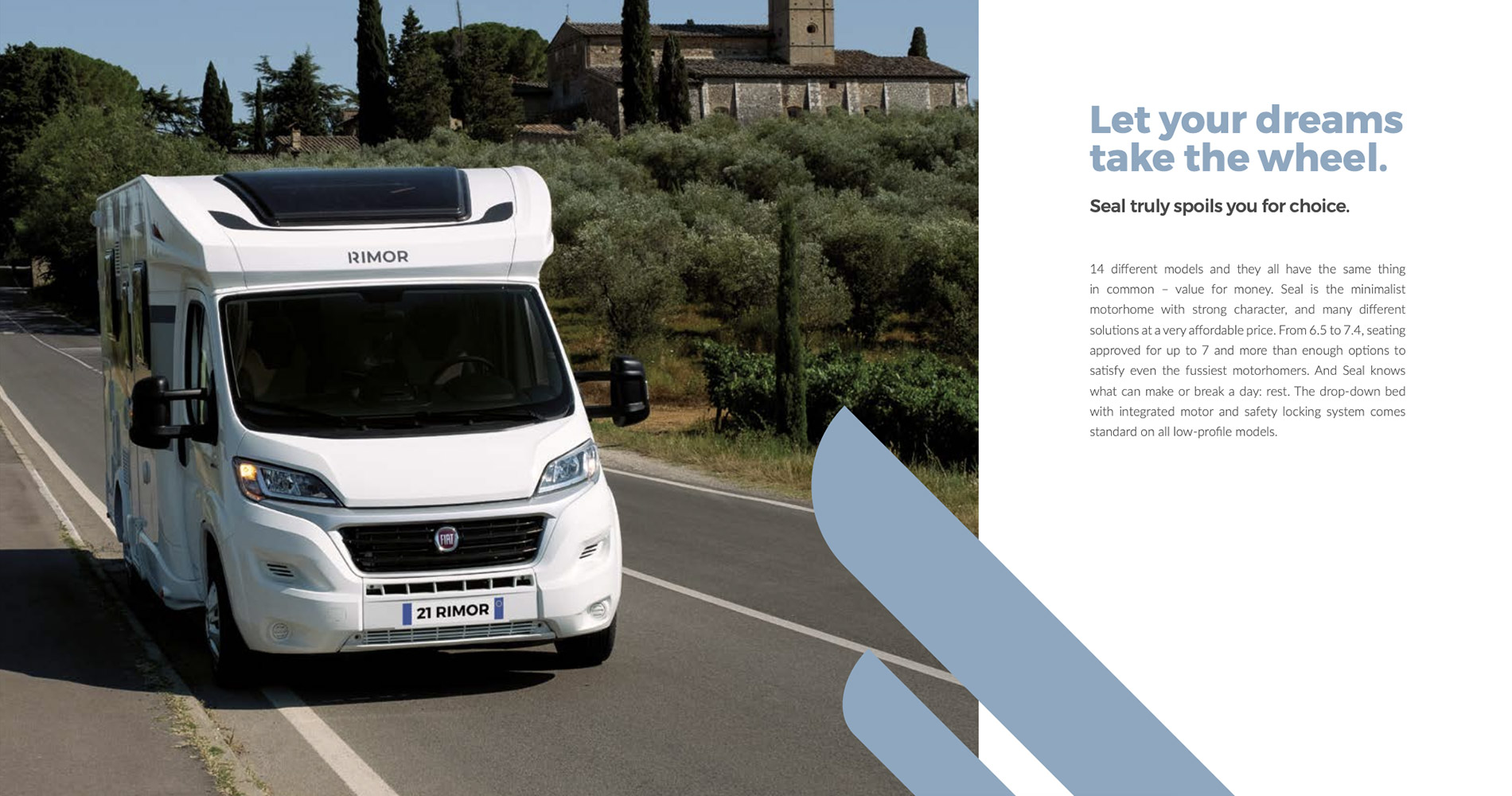 Set off with exhilaration.
Seal is available as either a low-profile or overcab model. Whichever you choose, you are guaranteed an exhilarating trip. Comfort is ensured by the wide variety of sleeping solutions, the arrangement of the living area, and the details that always make for special trips: twin beds, bunk beds, central double bed, additional beds in the dinette, and the new electric drop-down bed with safety locking system, standard on all low-profile models. The optional opening Skyview is your window to the starry night.
A dream with many new features. The most exciting? Seal 67 Plus, the motorhome with an innovative layout, swaps out fixed beds for the XL front drop-down bed for maximum liveability even in the 6.5 m length. What makes this model special is the "walk-in closet" and the modular garage, open on both sides but with a vertical section on the left side. Seal 99 Plus is a low-profile model and features a face-to-face dinette and twin beds. Seal 9 is an overcab model and has a bunk bed and 7 approved seats. Seal 50 is an overcab model fitted exclusively with a double bunk bed.
Overview
| | |
| --- | --- |
| Layouts | 12 |
| Berths | up to 7 |
| Fabrics | Touring / Cruise |
| Models | 3 / 5 / 8 / 9 / 50 / 695 |
| Models PLUS | 12 / 66 / 67 / 68 / 69 / 95 / 98 / 99 |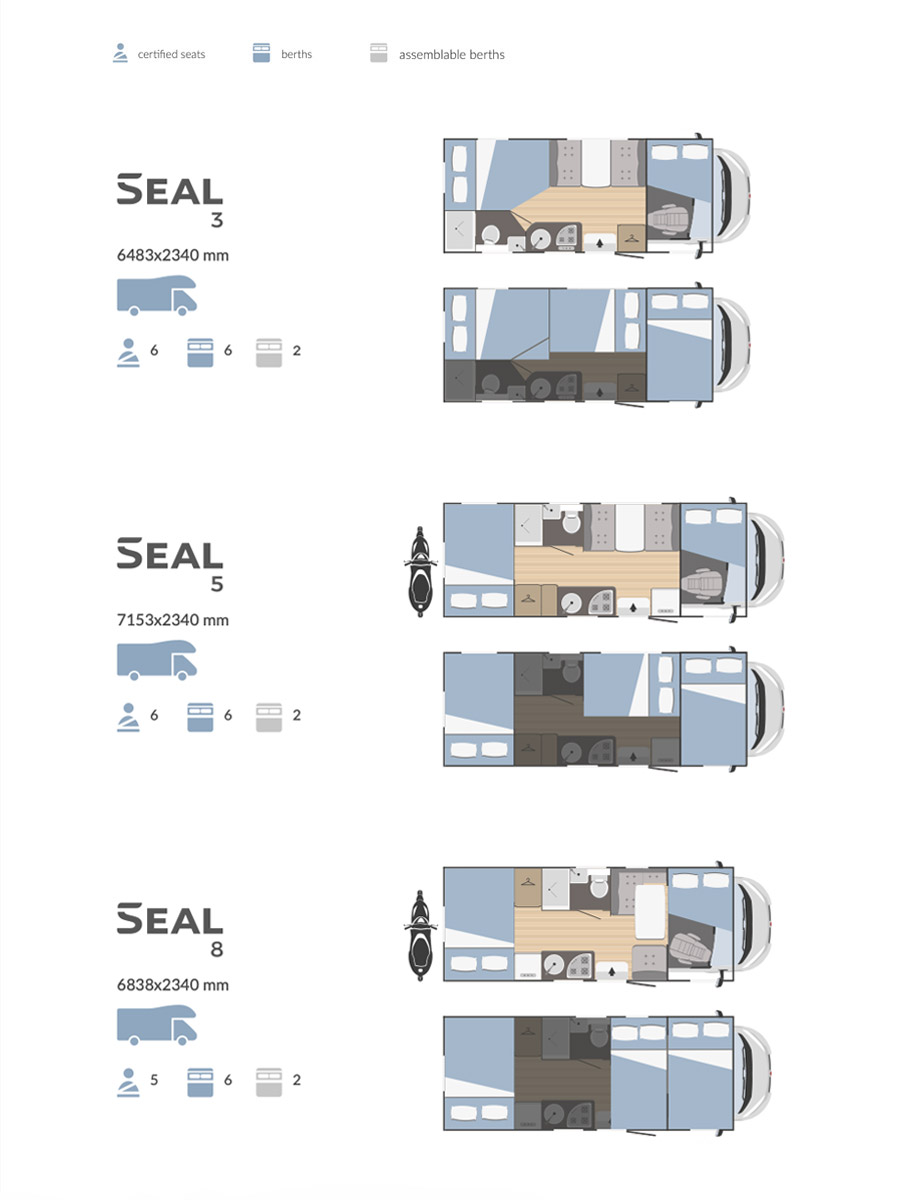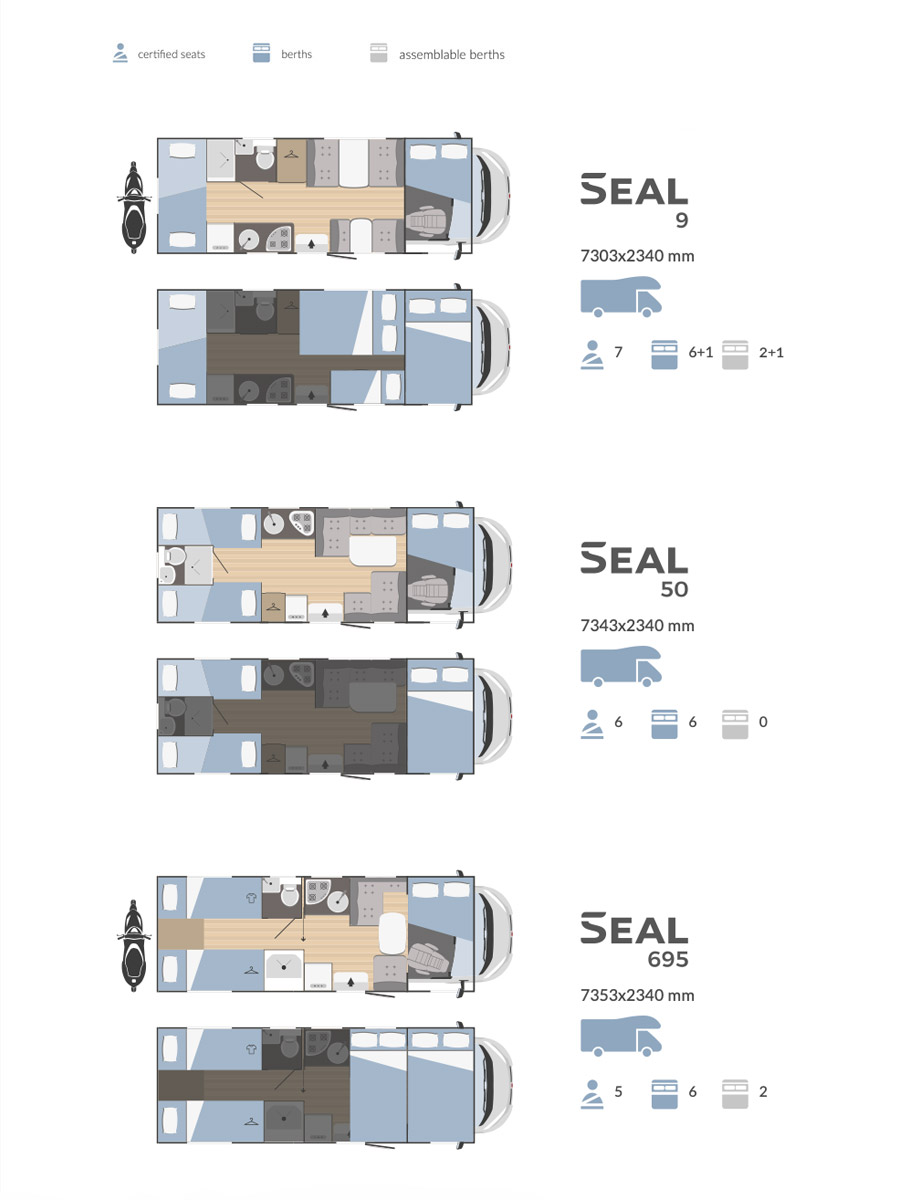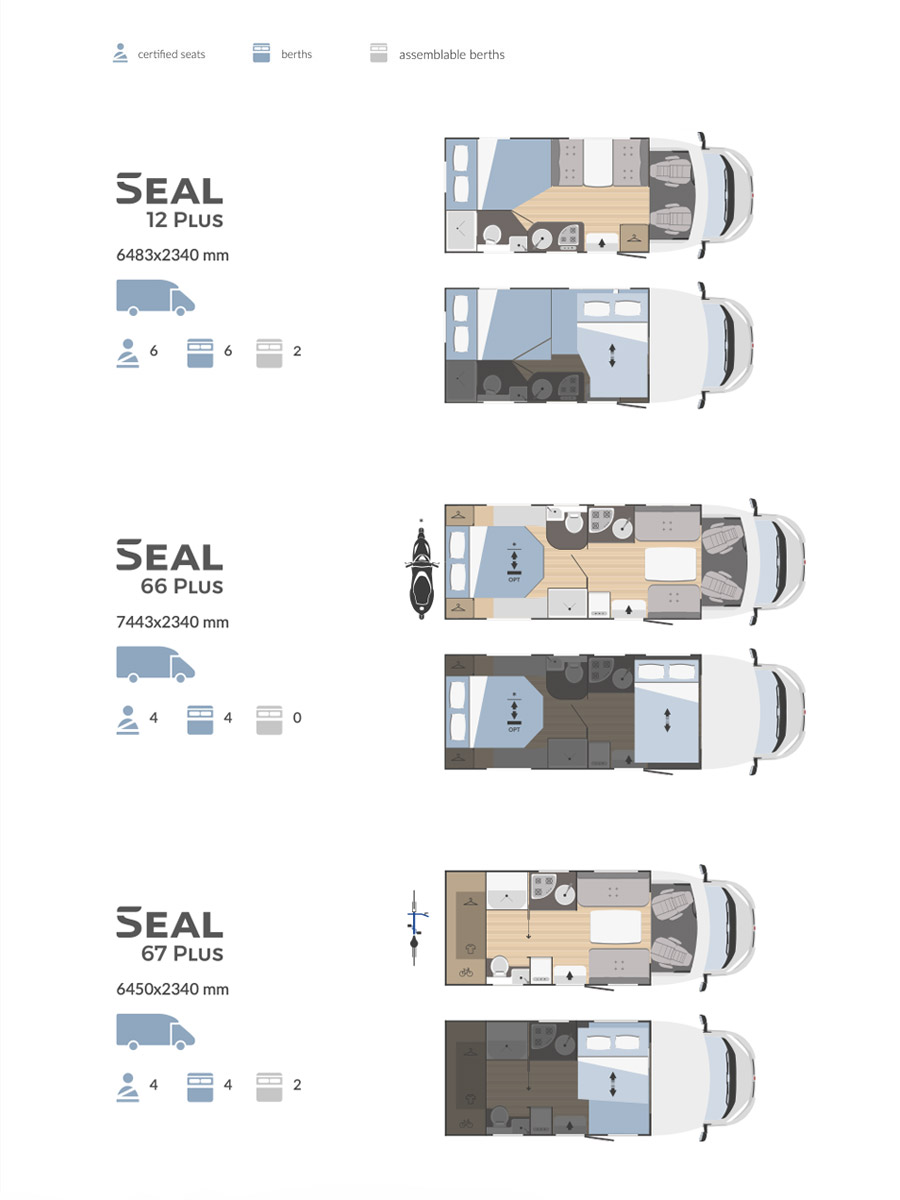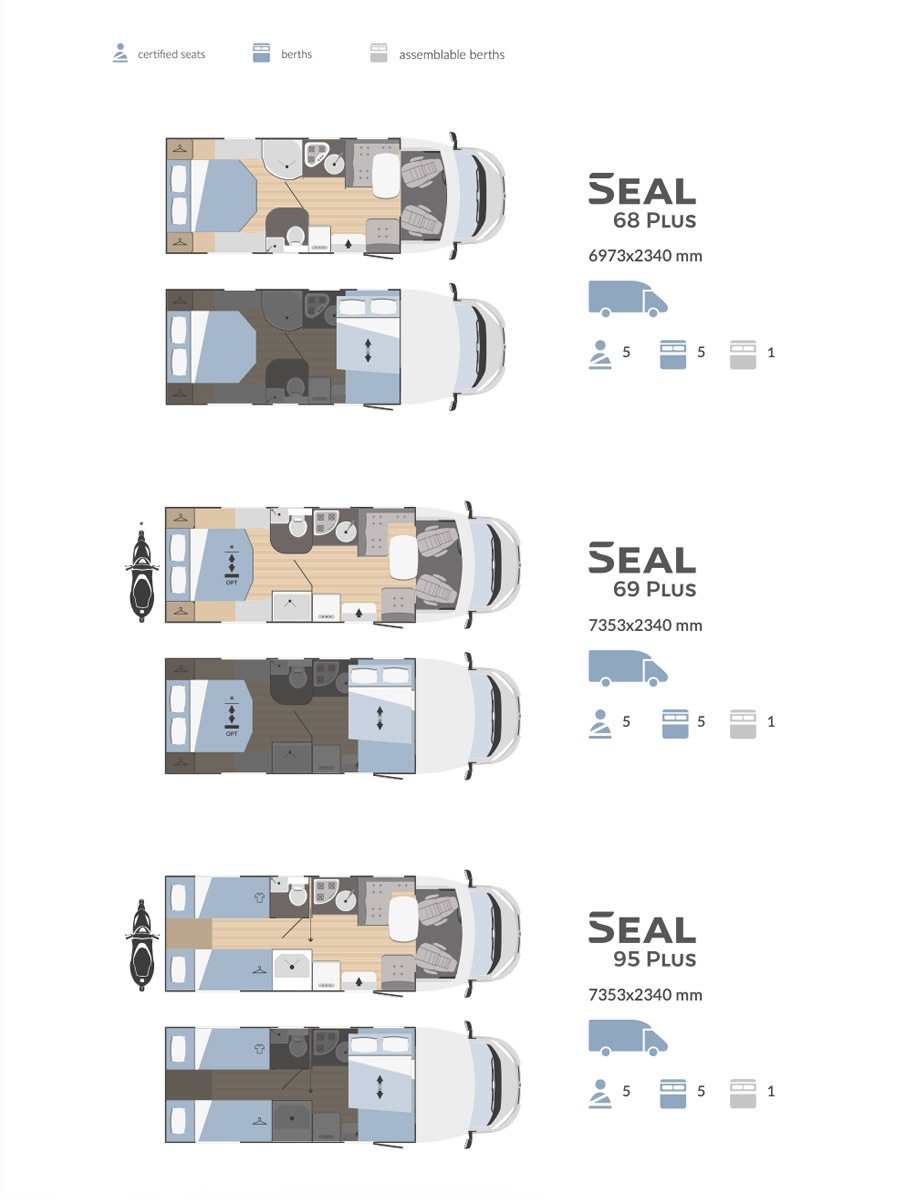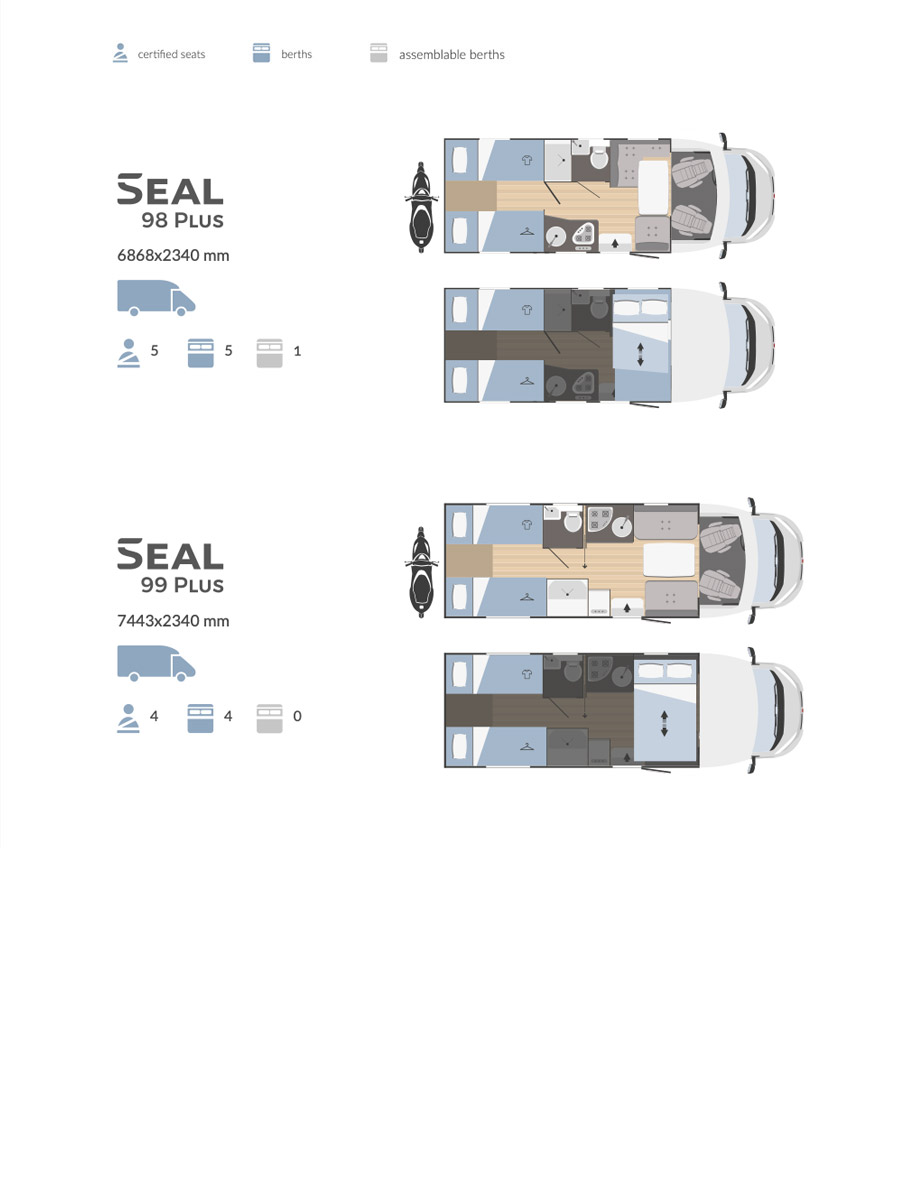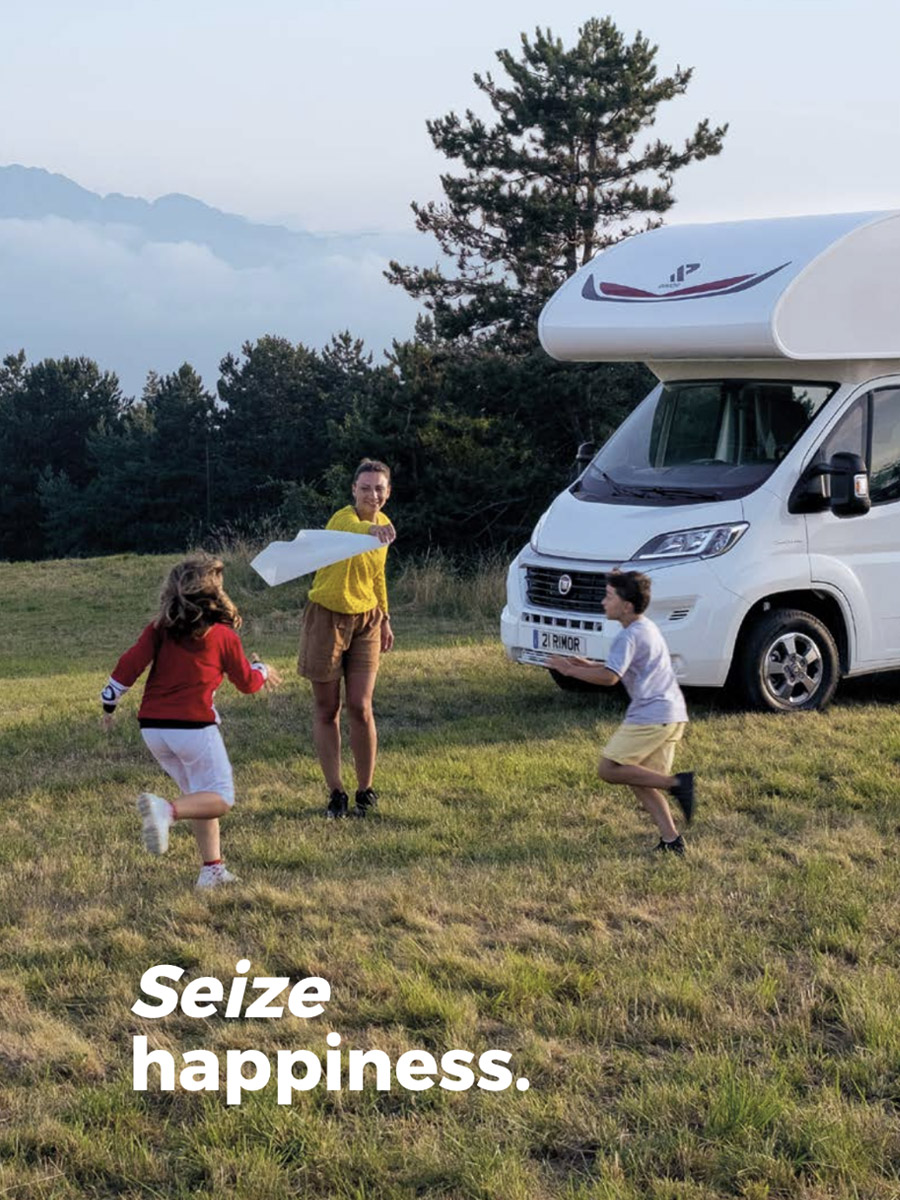 EVO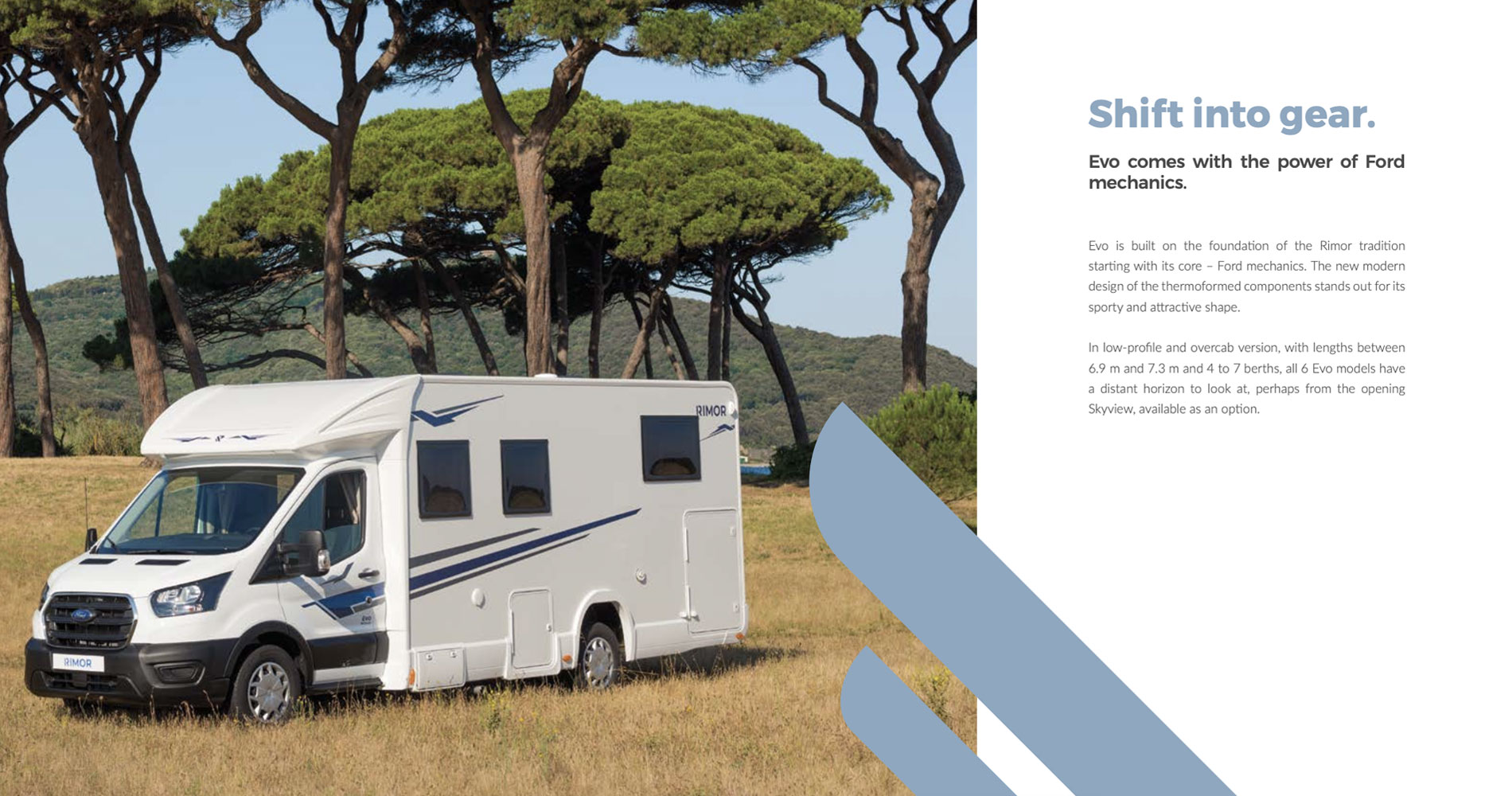 Enthusiasm hits the ground running.
Evo's features make it perfect for any destination. North or south, seaside or mountains, you can count on its comfort to create the ideal atmosphere for friends and family.
The range respects the spirit of the original – homely and welcoming. The Sound model has up to 7 berths and the 77 Plus has an exclusive layout, with double dinette and double drop-down bed – unique in its category. The two overcab models come in at under 7 m.
Overview
| | |
| --- | --- |
| Layouts | 6 |
| Berths | up to 7 |
| Fabrics | Wander / Discover |
| Models | 5 / SOUND / 66 PLUS / 69 PLUS / 77 PLUS / 95 PLUS |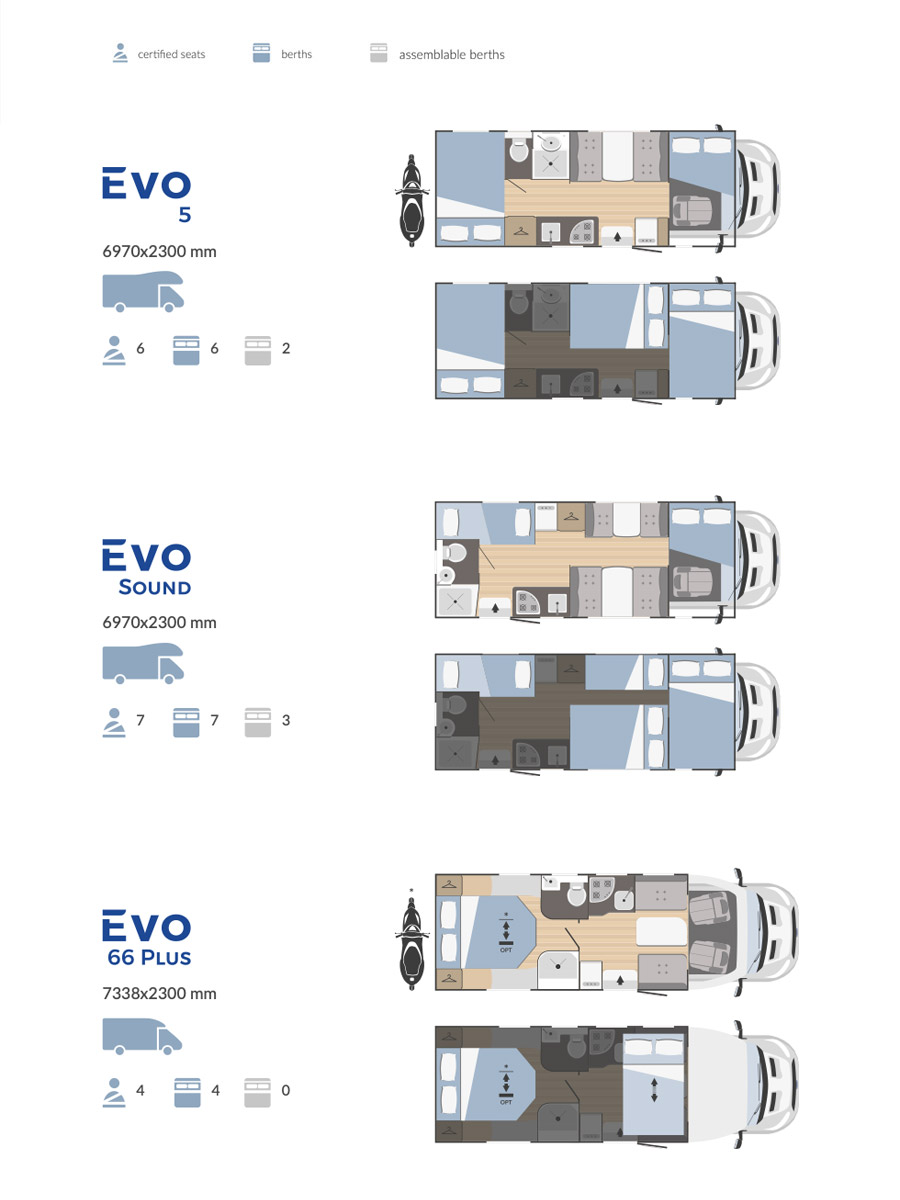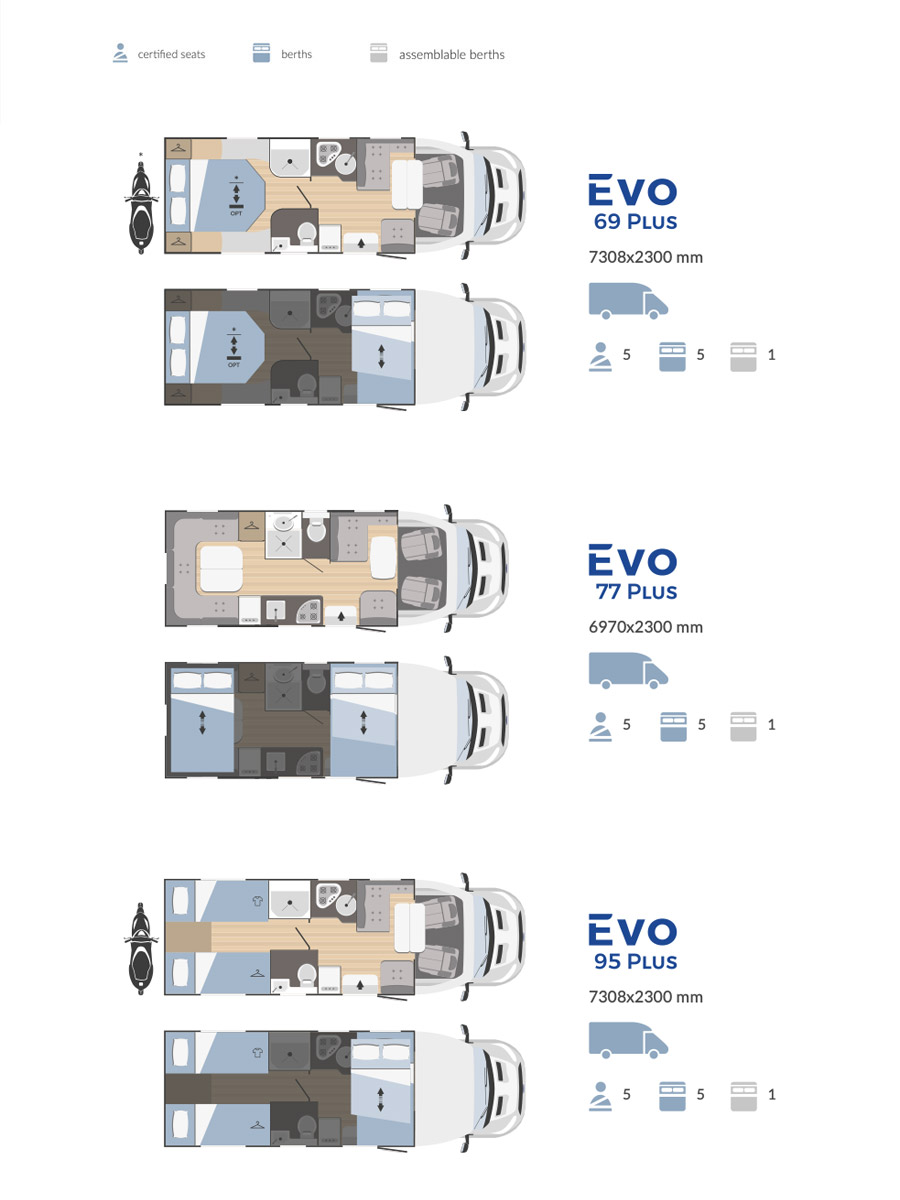 SUPER BRIG
Come aboard your own suite.
With Super Brig it is as though you are travelling in first class on a luxury boat on wheels. It is a mobile suite that goes everywhere with you. The sleeping area is available in a variety of solutions with double bed, transverse bed, 'suite', twin beds with pneumatic slatted base and front drop-down bed. The spacious dinette comes complete with high-quality fittings, luxury upholstery and swivel seats in the cabin.
The appliances and fittings are also top of the range, with a new 153 L column refrigerator that can be opened from both sides, a new kitchen top and a pull-out mixer tap for the sink.
Overview
| | |
| --- | --- |
| Layouts | 6 |
| Berths | up to 4 |
| Fabrics | Rove / Move / Escape |
| Models | 687 TC / 695 TC / SUITE / 69 PLUS / 87 PLUS / 95 PLUS |